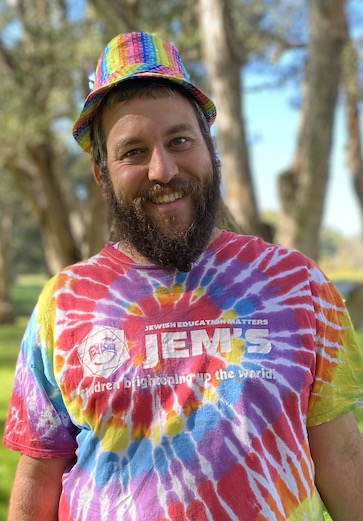 Rabbi Yossi Shuchat
Born in Montreal, Canada, Rabbi Yossi has studied in Montreal, New York, Israel and Sydney. In addition to his Rabbinic Ordination, Rabbi Yossi holds a Masters Degree in Leadership.
From a young age, Rabbi Yossi has been involved in creative Jewish Education, youth programming and camps. He has volunteered extensively in places like Russia & Germany to lead religious services and camps.
Rabbi Yossi is passionate about making Judaism available and engaging to all age groups, using innovative approaches whilst remaining down to earth and approachable.
Rabbi Yossi together with his wife Rivky and their Five children Mushka, Shaina Bracha, Bina Raizel, Tova Gittel & Avremel have been living in Sydney since 2007. In 2011 they jointly launched JEMs.

Rivky Shuchat
Born into a Rabbinic family of fourteen children in California, Rivky's family is engaged in community work and outreach throughout the world. Rivky grew up with a passion for teaching and completed her teaching degree in Montreal, Canada.
Rivky was born to be a teacher and has been involved in leading children's activities and camps from a young age. Rivky has many years of preschool teaching experience both in New York and California.
Rivky's passion lies in making learning engaging and fun, with a special emphasis on ensuring that every child be included. Rivky uses her limitless energy to make every session come alive through creative dress up and lively performances.

​Rabbi Chaim Munitz
Chaim Munitz is a young and energetic educator from Buffalo, N.Y.
Chaim has utilized his personable demeanor to mentor dozens of students in the yeshiva system and has devoted his summers educating campers in camps all across America and Canada.
He left New York shortly after getting married to bring his passion and skills with children to Sydney, Australia. He has quickly come to love and appreciate Australia's fierce devotion to educating the youth and has found his place teaching young school children and showing them the beauty of Yidishkiet!

Mushka Munitz
Mushka Munitz was born in Simcha (Santa) Monica, California and just like her city's namesake is an outgoing ball of energy & joy! Twelfth in a family of fourteen, Mushka has loved children from a very young age and has always dreamed of becoming a teacher.
After high school, Mushka's dream became a reality when she attended a teachers Seminary in Canada and graduated with a degree in child development and special education.
Mushka has been enriching the lives of JEMS children for over a decade and continues to spread her smiles, kindness and joy with every JEM she meets.