Fees & Child Care subsidy
Below is a chart showing the full fee and the child care subsidy based on 2 sample percentages, 50% (which the majority of families will receive) and 90% (which is the maximum subsidy percentage). Your actual fee will depend on your "Child Care Subsidy" eligibility & percentage, if you email us your percentage we can calculate it for you! 
To learn more about securing this rebate read the Government Rebates section below.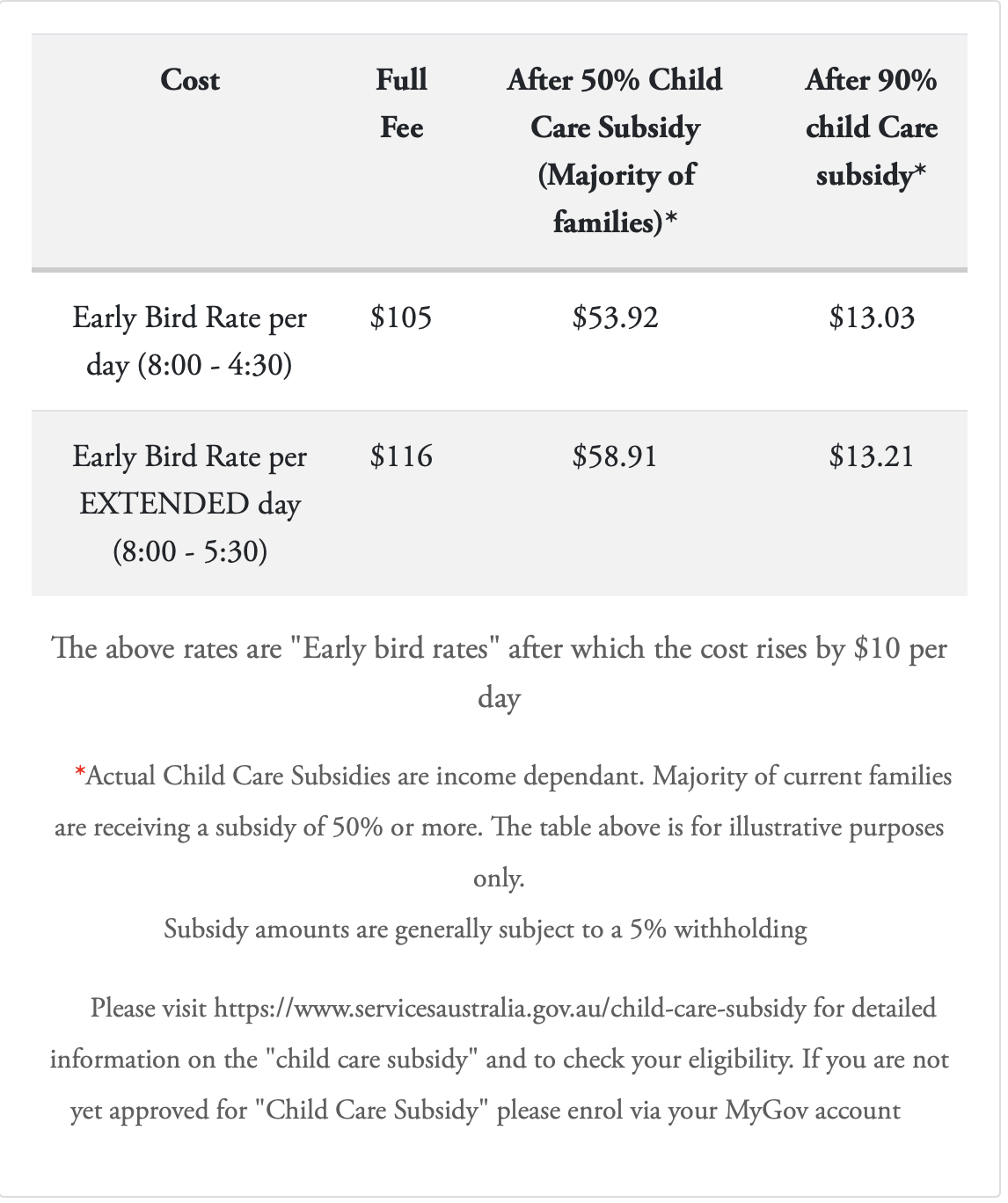 Direct debit fees (will be charged in addition to above fees):
Bank Account: $0.75 per transaction
Visa / Mastercard / Amex: 1.56% + $0.75 per transaction
Failed Transaction $2.75
Government Rebates
JEMs Camp / Vacation care operate as an approved Vacation Care (JEMS OSCH) allowing you to receive generous government benefits, specifically the child care subsidy which can cover up to 90% of the fees.
The amount you are eligible for will depend on your income and activity test. For more details please visit: www.education.gov.au/childcare
In order to receive the payments we will need you to fill in the CRN numbers and some other relevant info on the enrolment form or they can be provided to us at a later date via email.
If you are not certain whether you are registered for these payments, please contact the Department of Human Services (Centrelink) on 136150 or login through mygov and state that you have a school aged child who will be attending an approved vacation care.
Please note: As of July 2018 the "Child Care Subsidy" has replaced the "Child Care Benefit" & Child Care Rebate". The new payments are means tested (the upper limit is around 550k family income to still be eligible) with some families receiving a higher amount then before and some a lower amount then before and some not eligible. To check your eligibility and estimate your payment amount visit: www.education.gov.au/ChildCarePackage
In order to receive the government payments you will need to approve your child's enrolment in our service (JEMS OSHC) via your MyGov account or the Centrelink APP (once we have submitted the enrolment about a week before camp). Current JEMs children who have attended a session of care within the 14 weeks prior to camp will not need to do this step.